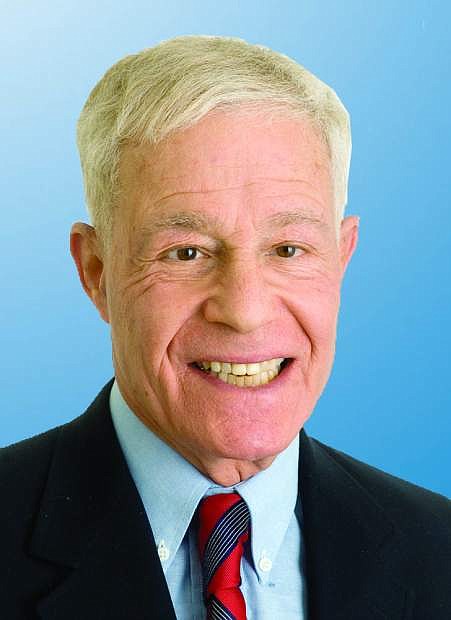 It was Thursday, June 3, and across America and around the world millions of people were anxiously awaiting the release of a major U.S. government report.
"Suspense Builds Ahead of Pentagon Report" headlined a front page article in the Washington Times. "Breathless" was the word used by the San Diego Union-Tribune to describe the emotions of many of those waiting for the much-heralded document.
So what were the disclosures found in the report made public seven weeks ago by the Defense Department's Unidentified Aerial Phenomena Task Force in conjunction with the Office of Naval Intelligence and the FBI?
In a nutshell, the report said that there is no conclusive evidence of the existence of unidentified flying objects, or UFOs, despite the fact that U.S. military pilots have issued 120 reports of UFO sightings the past several years. As National Public Radio stated, "This could have been the day that finally answered the burning question: Are there aliens out there? Sadly, we'll still have to wait."
The government report conceded, however, "The very ambiguity of the findings meant the government could not definitely rule out theories that the phenomenon observed by the pilots might be alien spacecraft." Transplanted into readable English, this means UFOs could, or could not, be flying around in the skies above us.
UFO sightings are nothing new. They have been reported for centuries. A CBS News poll released two months ago revealed that 66% of Americans believe there is intelligent life on other planets, an increase of 10 percentage points from a poll taken in 2017.
I am one of those who has seen an alien spacecraft, and I also met its four passengers. I previously told no one of my encounter because I figured they might think I had gone bonkers. This column today, then, is my first description of my most-unusual UFO experience that occurred on a cold, rainy and foggy day in January 2002, when I spied the UFO hovering over our house on the southern bank of the Carson River northwest of downtown Fallon. It was about 7 a.m. that morning, and I was en route to our newspaper office on North Maine Street to finish my weekly column that was due that afternoon.
As I was backing out of the garage, the UFO landed in front of my car and I came to a quick stop. The UFO was torpedo-shaped, about 30 feet in length, and in a minute or two four women emerged from the craft and waved to me. Too shocked to say anything, I waved back and finally managed to utter a "hello, ladies."
The women were super-friendly, and we shook hands. They appeared to be in the late 20s or early 30s. I didn't ask their ages because my mother always told me it was impolite to ask a woman how old she is. They were about 7 feet tall, had six fingers on each hand, large round heads, fair complexions, black hair and spoke perfect English with no foreign accent.
"Where are you from and what are your names?" I asked. "We are from Galaxy X near the moon and our names are Mae, Fay, Kay and Rae," responded Mae, the UFO's pilot. "Why did you stop at my house?" I asked. "Your home looks very pretty and inviting, and it's on a wide street so we had no trouble parking our craft," answered Kay. "Why did you come to Fallon," I then asked. "We've heard that Fallon is welcoming to visitors, and we want to go to a big store here to buy lipsticks and blonde hair dye that will make us the only ladies in our galaxy to have red lips and light-colored hair. Where should we go to shop?" continued Kay.
I answered that Walmart is the largest store in Fallon, and it carried a large selection of colorful dresses that they also wanted to purchase. The four women wore long, white dresses that resembled wedding gowns which most females in Galaxy X wear, and they said they hoped to look more inviting to the men in their galaxy if they returned home wearing up-to-date American fashions.
I told them to park their UFO behind my garage, as I didn't want it to draw too much attention from the neighbors. The five of us then hopped in my 1998 Ford Explorer and we drove off to Walmart. Once inside, they drew stares from customers and employees, who, nevertheless, were warm and welcoming. The four ladies shopped for more than an hour, buying about a dozen dresses each and enough lipsticks and blonde hair dyes to last several years. Each woman also bought about 20 tubes of toothpaste.
"The stuff sold in our stores tastes and smells like kerosene," Fay said as we piled into the Explorer and drove back to my house. The ladies' total purchases had come to nearly $1,500, which they paid in bitcoin.
When we got home, I asked them to come inside to meet my wife, Ludie, but they said they didn't have time because they needed to return to Galaxy X immediately to attend a welcome home party.
"We also are looking forward to watching our two favorite American TV shows which will air in our spacecraft in a few minutes," replied May. When I asked her what those shows were, she responded "Bachelor" and "QVC Shopping Show."
Before the women departed, they said they hoped to return someday and bring presents to Ludie and me. We shook hands, they kissed me on the cheek and flew off in their craft heading straight up to the heavens.
David C. Henley is publisher emeritus of the Lahontan Valley News and Fallon Eagle-Standard.
from WordPress https://ift.tt/2Tr5I3H
via
IFTTT